CLINIC PRESENTERS
An unrivaled network of coaches, sharing their secrets behind developing elite hockey talent.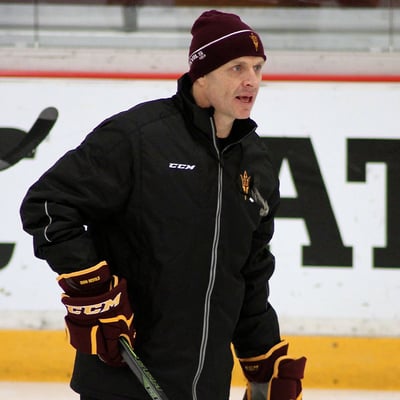 ALEX HICKS




ASSISTANT COACH | ARIZONA STATE UNIVERSITY




Alex Hicks is entering his seventh year as the Assistant Coach for the Arizona State University Sun Devils Men's hockey team. During his playing days, Hicks played left wing for 258 games between the Anaheim Mighty Ducks, Pittsburgh Penguins, San Jose Sharks and Florida Panthers, scoring 25 goals with 54 assists.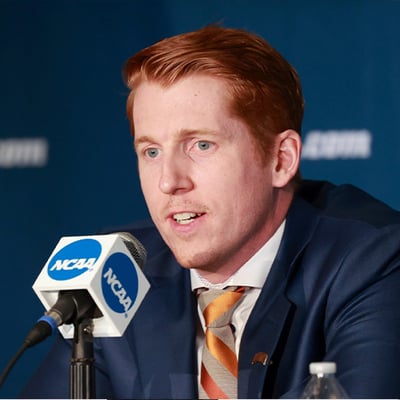 DAVID CARLE




HEAD COACH | DENVER UNIVERSITY




David Carle is a coaching pioneer. He also happens to coach the Denver Pioneers. This past season Carle led the program to its record-tying ninth National Championship. It was just the 31-year-old's fourth season behind the bench; when hired, the product of Anchorage, Alaska, was the youngest Head Coach in NCAA Division I men's hockey.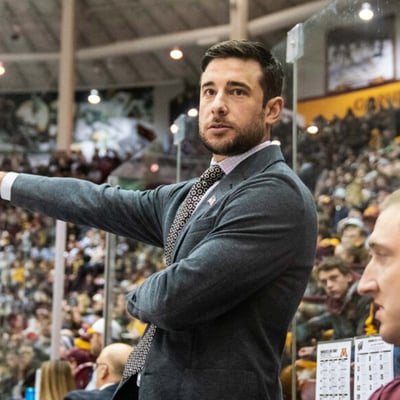 GARRETT RABOIN




HEAD COACH | AUGUSTANA




Garrett Raboin, formally Assistant Coach for the University of Minnesota, has been selected to be the inaugural Head Coach of the Augustana University Viking Men's Hockey program, set to take the ice in the 2023-24 academic year. Raboin just completed his fourth season at Minnesota with a trip to the NCAA Division I Frozen Four.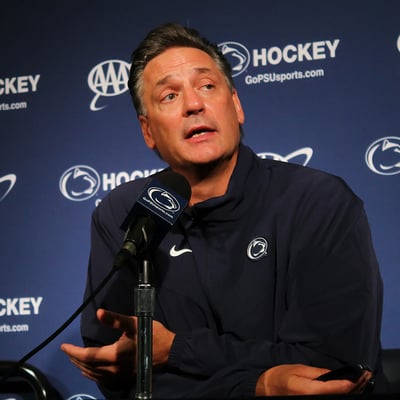 GUY GADOWSKY




HEAD COACH | PENN STATE UNIVERSITY




Guy Gadowsky guides the Nittany Lions in his 23rd collegiate season at the helm of an NCAA Division I program and his 11th at Penn State in 2022-23. This past year, Gadowsky led the Nittany Lions back to the Big Ten semifinals for the seventh-straight season and the eighth time overall in the nine-year history of the conference.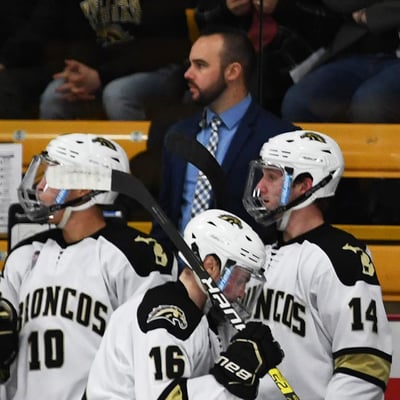 J.J. CREW




ASSISTANT COACH | WESTERN MICHIGAN




J.J. Crew is Assistant Coach with the Western Michigan University Broncos, a position he's held for two seasons after being promoted from Director of Player Development. Crew was formally a graduate assistant coach at Ohio University; prior to that he was the head coach of the Colorado Rampage Junior A team.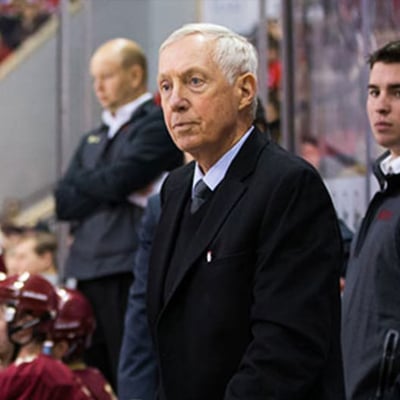 JERRY YORK




FORMER HEAD COACH | BOSTON COLLEGE




Last season marked Jerry York's 50th as a Division I Head Coach and his 28th at Boston College. The 2021 Hockey East Coach of the Year, who retired in 2022, is college hockey's all-time winningest coach; York is one of three coaches in NCAA history to lead two different schools to NCAA titles: Bowling Green (1984) and Boston College (2001, 2008, 2010, 2012).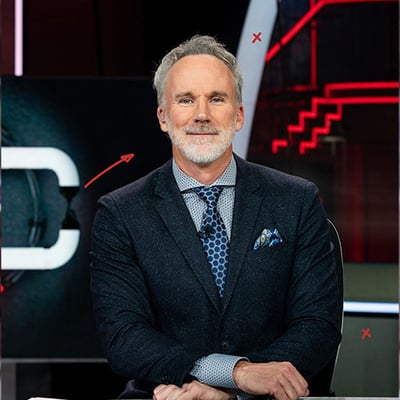 JOHN BUCCIGROSS




SPORTSCASTER | ESPN




John Buccigross serves as co-host of SportsCenter and during the 2021-22 NHL season, he called play-by-play for select NHL games as part of ESPN's talent team. "Bucci" also serves as the play-by-play voice of the NCAA Hockey Championship. He joined ESPN as a news anchor in 1996, hosting NHL 2Night, ESPN2's 30-minute hockey show, from 1998-2004.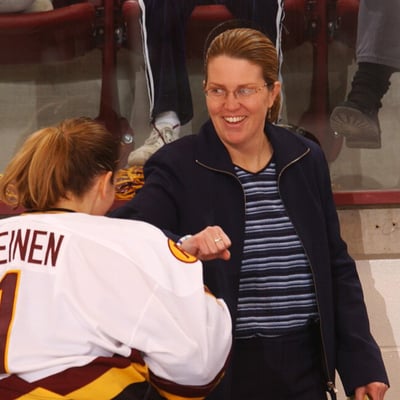 LAURA HALLDORSON




FORMER HEAD COACH | UNIVERSITY OF MINNESOTA




If there was a Mount Rushmore for women's hockey coaches, Laura Halldorson would be front and centre. In 17 years behind the bench split between Colby College (1990-1996) and University of Minnesota (1998-2007), Halldorson put together an incredible record of 337-142-31. She successfully led the Gophers to three National Championships in her 10 seasons behind the bench.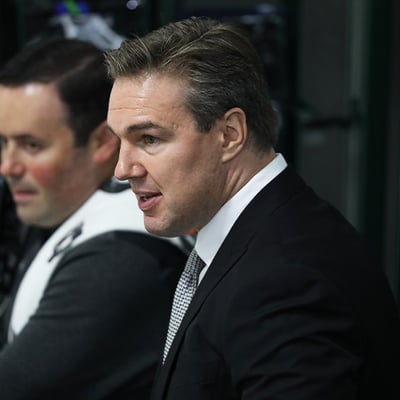 MATT NICHOLSON




ASSOCIATE HEAD COACH | ROBERT MORRIS UNIVERSITY




Matt Nicholson spent six years with the RMU Colonials men's hockey team from 2009 to 2015, before becoming an Assistant Coach at Niagara. This summer Nicholson returned to RMU as Head Coach. Nicholson helped RMU record a 108-88-30 during his six years, including earning their first automatic bid to the NCAA Tournament in 2014.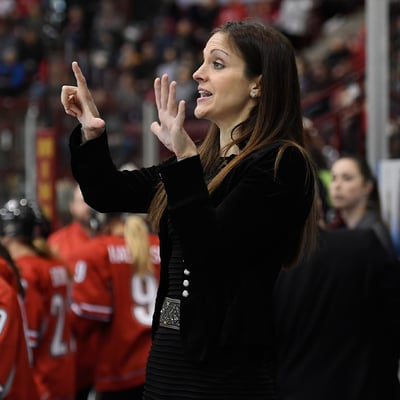 NADINE MUZERALL




HEAD COACH | OHIO STATE UNIVERSITY




Nadine Muzerall led the Ohio State Buckeyes to its very first National Championship during a record-breaking 2021-22 campaign that saw the Buckeyes earn their very first No. 1 national ranking and No. 1 NCAA Tournament seed. In 2022, Muzerall was named the WCHA Coach of the Year for her third time in five years.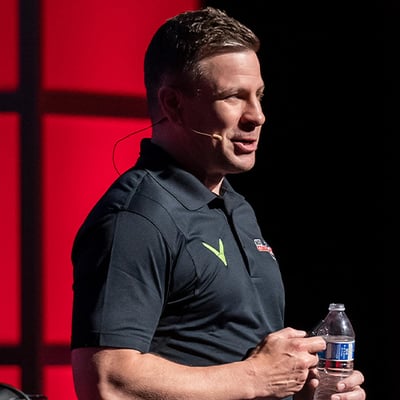 SEAN HOGAN




SENIOR DIRECTOR, ATHLETE RELATIONS




Hogan came to College Hockey Inc. with an extensive coaching background, having served as an American Collegiate Hockey Association head coach at Ohio University (2014-19), Arizona (2011-14) and Oakland (2005-09). He served on the coaching staff of USA Hockey's Men's National University Team three times, including as head coach in 2017, and was the volunteer assistant coach with Western Michigan in 2010-11.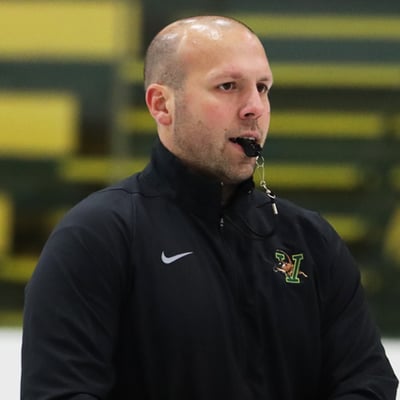 STEPHEN WIEDLER




ASSISTANT COACH | UNIVERSITY OF VERMONT




Stephen Wiedler was named an Assistant Coach at the University of Vermont ahead of the 2020-21 campaign. As Assistant Coach at AIC from 2015-2018, Wiedler earned the title of Associate Head Coach in his final year (2019-2020). His responsibilities included being the recruiting coordinator, running the penalty kill, and developing the defense.
LEARN FROM HOCKEY'S TOP COACHES